Cartilage Regrowth by PRP/Stem Cell therapy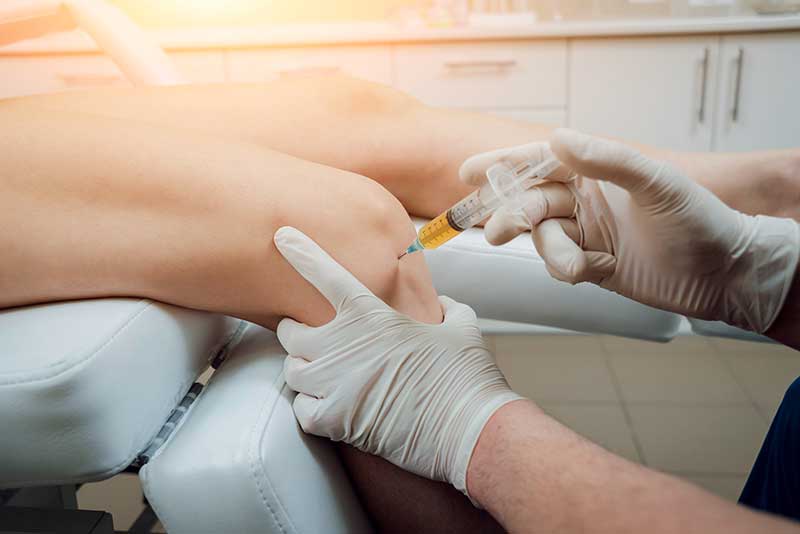 Knee pain caused due to osteoarthritis proves to be a significant reason for a person to make him/her disable and miss out many things out of his/her regular schedule. Osteoarthritis is a severe degenerative disorder, and it eventually leads to the destruction of the knee joint cartilage. Osteoarthritis may be caused due to a slight injury to the knee joint like ligament tears, tendon destruction, or fracture, etc.

Conventional treatment is kept focussed on easing the pain, and it involves anti-inflammatory & opioid pain medications and physical therapy. Injection therapy using hyaluronic acid & corticosteroids is generally chosen as the following treatment procedure for repairing knee cartilage. Surgical treatments including arthroscopy, microfracture, and subchondral bone drilling are considered as the next steps in the treatment saga.

Though, many of the patients eventually lead towards the knee joint replacement surgery. Stem cell therapy for the knees is considered as a treatment that is minimally invasive and is very effective in decreasing inflammation. The stem cell therapy helps in reducing the arthritic damage, delays knee replacement surgery, and repairs joint cartilage.

Methods involving Stem Cell Extraction
Adult stem cells are being extracted by using minimally invasive methods while utilizing bone marrow & fat tissue. Bone marrow stem cells hold enough potential for the concentrated cells, as they contain many growth factors, which eventually help in the cartilage formation process. Cell numbers associated with the bone marrow decrease with time, and become ineffective & idle in the older patients.
Fat derived stem cells express increased capability to generate differentiation into cartilage and are being found in increasingly high numbers in comparison to the bone marrow. The major difference is that they are not only 200-500 times higher in numbers, but also they do not decrease as we grow old. Fat-derived cells have proven to be helpful in curing cartilage defects, and eventually improving osteoarthritis conditions. Fat-derived adult stem cells have shown better outcomes than bone marrow while being considered in relation to cartilage repair.
But still, due to the introduction of new advancements, techniques, and inventions in the same sector, stem cell therapy is not preferred in all the treatment methods. While monitoring multiple scenarios, we get to know that stem cell therapy doesn't prove to be similarly potent for all the patients.
Supplement including PRP
A minimally invasive process for harvesting stem cells using both bone marrow and fat tissue, as well as the injection process of including the concentrated cells under the image guidance can be done in two to three hours. When this process is being supplemented with extra growth factors coming from concentrated placental or platelet-rich plasma, it involves best-ever properties of each available source.
Outcomes Associated with the Treatment
The outcomes involving the treatments mentioned above have proven to be successful and all positive. And, the doctor prescribes medication, exercises, and further treatments as per the condition of the patient. The main focus is kept on relieving the pain from the which the patient suffers. Many of the patients are being saved from major surgeries as they witnesses miracles while opting for advanced stem cell therapies.