Dr. Bharani Kumar Dayanandam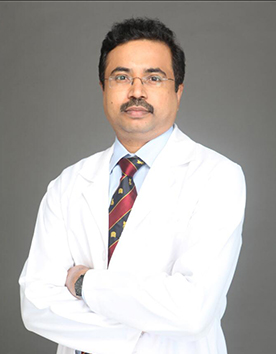 Trauma, Joint replacement and Arthroscopic Surgeon
MBBS, AFRCSI, Dip Orth Eng (UK) FRCS (Trauma & Orthopaedics) Chennai
Dr Bharani Kumar Dayanandam, a prominent and experienced (over 21 years) Orthopaedic Surgeon and Trauma Consultant, is currently serving as the Consultant Trauma & Orthopaedic Surgeon (Knee and Shoulder Specialist) at Apollo Hospitals, Ayanambakkam, Chennai, India.
Professional Expertise:
Orthopaedic Surgery
Orthopedics
Academics & Certifications
MBBS - 1995
The Tamil Nadu, Dr MGR Medical University, India
Associate Fellow (AFRCSI) - 2001
Diploma in Orthopaedic Engineering - 2004
University of Wales, College of Engineering & Medicine
FRCS (Trauma & Orthopaedics) - 2010
Professional Experience
Dr Bharani Kumar worked with a broad spectrum of interests during his foundation years as a basic Surgical Trainee. He started with basic surgical training in trauma and orthopaedics, accident and emergency and general surgery. His particular interest in Orthopaedics was stimulated whilst working for Mr J Adams at the Prince Philip Hospital.
Dr Bharani Kumar then worked for a year each in Trauma & Orthopaedics at Hereford and Maidstone General Hospitals. There he treated a wide range of trauma and elective Orthopaedic surgery cases. During this period he completed his Basic Surgical Training exams and then worked as a senior SHO gaining valuable surgical experience in Orthopaedics.
To further complement his experience in Trauma & Orthopaedics he worked as a clinical fellow in Plastics and Hand surgery at Broomfield hospital, Chelmsford one of the largest Plastic Surgery unit in the UK. He was exposed to both elective and emergency pathology in hand, management of soft tissue injuries and was also posted to cover the Burns department, a tertiary unit.
He then worked in Weston General Hospital as a clinical fellow (SSHO grade), where he learnt to perform supervised primary hip and knee arthroplasty, knee arthroscopy, dupuytren's surgery, carpal tunnel lists and all trauma cases.
Dr Bharani Kumar had worked as a Registrar in Trauma & Orthopaedic surgery from Aug 2004-Aug 2011 at Prince Charles Hospital, which was a busy DGH. He has been exposed to a wide variety of trauma and elective orthopaedic surgery. He has worked for different surgeons during this period and been exposed to various aspects of orthopaedic surgery. Initially he worked with Mr K Kara, knee surgeon. Under his guidance Dr Bharani Kumar was exposed to computer navigated total knee arthroplasty.
His next term was with Mr G Zafiropolous, where he had exposure to revision hip and knee arthroplasty.
From April 2009, he worked for a year for Mr A Sharma, who had special interest in shoulder surgery. During this period he was exposed to various aspects of arthroscopic shoulder surgery.
From March 2010 - Aug 2011, Dr Bharani Kumar worked with Mr P Lewis, hip and knee arthroplasty surgeon and Mr G Clewer who had special interest in soft tissue reconstruction of knee.
During the period Aug 2011- Aug 2012, he worked as Senior Knee and Shoulder fellow at Llandough Hospital, University Hospital of Wales. He gained valuable experience in the management of all aspects of knee surgery (Soft Tissue reconstruction and Arthroplasty) and shoulder surgery under the guidance of Mr M Forster, Mr S White and Mr A Robertson.
Field of interest
Arthroscopic Knee Surgery ( Ligament Reconstructions-ACL/PCL/PLC/MCL, Meniscal implants/transplants, Patella realignment, Cartilage preserving surgery)
Joint Arthroplasty (Primary & Revision), UKR, PFJR, Osteotomy
Arthroscopic Shoulder decompression, Rotator cuff repair, Shoulder stabilisation